Department of Electrical and Electronics Engineering
Centre for

Quality Checking of
Lighting System
CENTRE FOR

Renewable Energy &
Industrial Drives
Centre for
Electrical
Estimation
About Head of the Department
---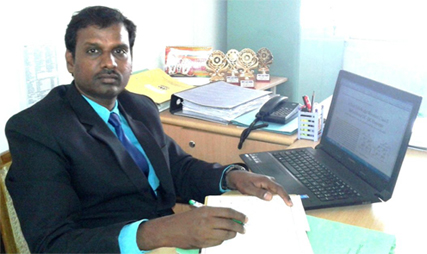 Dr.S.Rajendran M.E.,Ph.D.,MISTE.,
Professor & Head - EEE
Dr.S.Rajendran, Professor & Head, Department of Electrical and Electronics Engineering has got 18 years of teaching experience in various technical fields, in which he served as a Lecturer in MAHSA University, Malaysia for 2 years.
He received Bachelor degree in Electrical and Electronics Engineering from Government College of Technology, Coimbatore in 2001 and ME degree in Power Electronics and Drives from Anna University Chennai in 2007.
He has obtained his PhD degree in Anna University in 2014, India.
He has applied a patent called "Bio-waste composting machine" on 13.03.2020.
He received "BEST OUTSTANDING RESEARCHER AWARD" from Honorable Chief Minister of Puducherry Thiru.V.Narayanasamy..
He received "INNOVATIVE ACADEMIC RESEARCH & DEDICATED TEACHING FACULTY PROFESSIONAL AWARD" from the Engineering Today by the society of Engineers and Technicians, Kuala Lumbur,Malaysia.
He has published papers in 9 International Journals and 6 International & National Conferences.
He is a active Reviewer in Brazilian Archives of Biology and Technology, BRAZIL and AMER Scientific Publishers, United States.
He is a life member of Indian Society for Technical Education (ISTE) & International Association of Engineers (IAENG) Hong Kong.
His field of interest is Power electronics applications in renewable energy sources.
View Profile